How ergonomically do companies work in manual manufacturing?
The item study shows which ergonomic measures are already in use in production. It also reveals the optimization potential that users and experts see in ergonomic workplace design. This is how decision-makers use the full potential of manual production!
...of the companies interviewed expect an increase in productivity through ergonomic solutions at industrial workplaces.
...of users of ergonomic workplace systems use height-adjustable work tables.

...of respondents involve employees in the planning process to mitigate concerns about changes in the work environment.
Our Mission
The item workstation system combines efficiency and ergonomics to form an ergonomic overall system. With a wide range of optimally suited components and expert advice, our aim is to contribute to the health and satisfaction of your employees and thus increase the efficiency of your manual production processes.
Award-winning!
item is the first and only provider of an industrial workstation system to receive the seal of approval from the "Aktion Gesunder Rücken e.V." (campaign to promote spinal health) for its ergonomic design.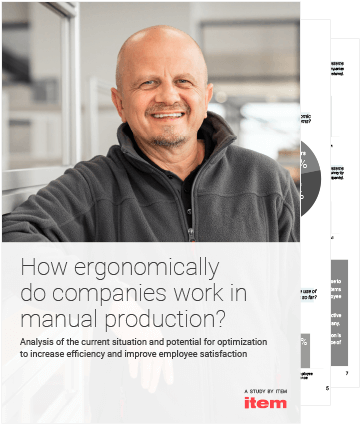 Ergonomics at industrial workstations: Read the study now!
Use the findings of our study to determine the current situation for your company. Supplemented by the professional assessment of independent experts, the data shows a clear trend for the efficient optimization of existing ergonomic workplaces.
Simply fill out the form and download the study free of charge.